PREMIERED 2023
The Story of Travis is a new play inspired by Lorraine Hansberry's 1959 Broadway classic A Raisin in the Sun. It deals with the importance of having a dream, making your voice heard in a world that wasn't built with you in mind, and finding a home. Moving from poetic monologues to recognizable family situations and spiritual dialogues, the show raises questions on the burden of the Black dream and what it's like to be sent out into the world as your family's only hope.
As a teenager, American-born Travis (played by Ruurt De Maesschalck) leaves his native Chicago to lead a nomadic life. He reaches the Netherlands where he falls in love, starts a family and builds a new life for himself. Then at 78, Travis embarks on one last big trip and returns to Chicago. Standing at his family grave he looks back upon his life. Bringing back memories from the past and rekindling conversations with his relatives, Travis prepares for his passage to the hereafter.
Between 2016 and 2019, Well Made Productions introduced the Dutch theater audience to The Raisin Cycle. Similar large-scale bi-cultural stories for a diverse audience are still made too sporadically, which is why Well Made Productions and Theater Rotterdam are joining forces in the 2022-2023 season.
The initiators of The Story of Travis are five black women, unique in the theater landscape: Ellen Tjon A Meeuw (business production) and Samora Bergtop (artistic production) from Well Made Productions, who once again team up with writer/screenwriter Esther Duysker for this new play. Director Romana Vrede gives the script her unique signature and Alida Dors (artistic director Theater Rotterdam) is responsible for the choreography.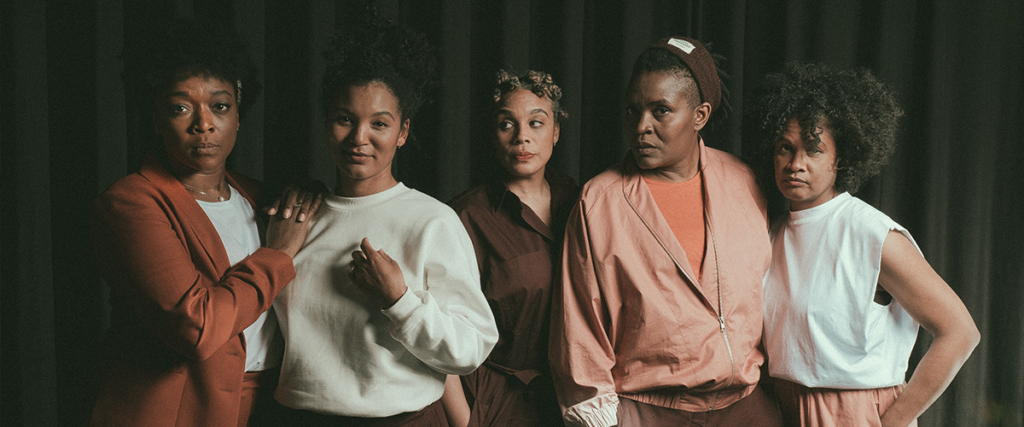 CAST
Dionne Verwey as De Schrijfster
Howard Komproe as Pa
Jennifer Muntslag as Nola
Jetty Mathurin as Omie
Joy Wielkens as Zus
Ruurt De Maesschalck as Travis sr
Ritzah Statia as Ma
Yamill Jones as Travis jr / Grampa
CREW
Text Esther Duysker
Director Romana Vrede
Assistant director Toni Blackwell
Choreography Alida Dors
Assistant choreography Nicole Geertruida
Dramaturgy Karim Ameur, Aukje Verhoog
Content advice Simone Zeefuik, Ira Kip
Decor design Niek Kortekaas
Light design Niek Kortekaas, Axel Dikkers
Music composition Ata Güner
Costume design Erik Bosman
Assistant costume design Sandro Lima
Execution costumes Karin van der Leeuw, Sara Hakkenberg, Jacqueline de Maat
Hair & makeup Alejandro Blijd
Dresser Feben Seyum
Technical producer John Thijssen
Performance leader Sidney van Geest
Technicians Axel Dikkers, Arjen Fortuin, Hein van Leeuwen, Jimmy Niessen, Sidney van Geest, Sanne Fransen (internship)
Animation design and realization Wim Bechtold
Props Noa Muller
Production Angelique van Beckhoven, Annekoos Logtenberg, Emma Boots, Kaya Wessels (internship)
Audience dramaturgy Joëlle Raus Prudence
Education and interaction Jasmine van Putten, Anne Sollie, Gregory Vyent, Ilrish Kensenhuis, Naomi Tuininga, Sudesca Janse
Marketing and communication Dieke van der Spek, Odair Nascimento Alves, Michael Vogel, Robin Laurens, Sofie de Leede, Thamar Kempees
Press Gisèle Mambre
Design digital magazine Amanda Harput
Campaign image Coco Olakunle
Photography and video Bete van Meeuwen, Cye Wong-Loi-Sing, Selwyn de Wind
Executive producers Ellen Tjon A Meeuw, Samora Bergtop, Maurice Dujardin, Alida Dors
Project Manager Maurice Dujardin
Development Floortje Jongkoen
Thanks to Rubiën Vyent, Mitchell Esajas, Internationaal Theater Amsterdam, Wafae Ahalouch, Lynnée Denise, The Black Archives
Funds

TOUR 2023
Rotterdam, TR Schouwburg 7 t/m 11 maart – Tickets
Zwolle, Schouwburg Odeon 14 maart – Tickets
Leeuwarden, Stadsschouwburg De Harmonie 17 maart – Tickets
Almere, Kunstlinie 19 maart – Tickets
Den Haag, Koninklijke Schouwburg 22 t/m 23 maart – Tickets
Amsterdam, Internationaal Theater Amsterdam 25 & 26 maart – Tickets
Gouda, De Goudse Schouwburg 31 maart – Tickets
Dordrecht, Schouwburg Kunstmin 1 april – Tickets
Utrecht, Stadsschouwburg Utrecht 3 & 4 april – Tickets
Amsterdam, Theater de Meervaart 5 april – Tickets
Tilburg, Theaters Tilburg 8 april – Tickets
Deventer, Deventer Schouwburg 12 april – Tickets
Groningen, Stadsschouwburg Groningen 13 april – Tickets
Haarlem, Stadsschouwburg Haarlem 15 & 16 april – Tickets
Eindhoven, Parktheater 18 april – Tickets
Rotterdam, TR Schouwburg 21t/m 23 april – Tickets